At Weiss ENT, our goal is to provide efficient and courteous service.
Our staff strives to make our practice your neighborhood Ear, Nose and Throat specialists. We treat our patients the way we all want to be treated: as neighbors and friends. Discover why Weiss ENT is the ENT Marietta and Woodstock GA calls first!
Hello again! Welcome to a spooky Weiss ENTuesday!! Our Atlanta Braves are one victory away from winning their division series against the Brewers! Hopefully a huge crowd will attend today's game, even filling the "nosebleed" seats. Speaking about nosebleeds….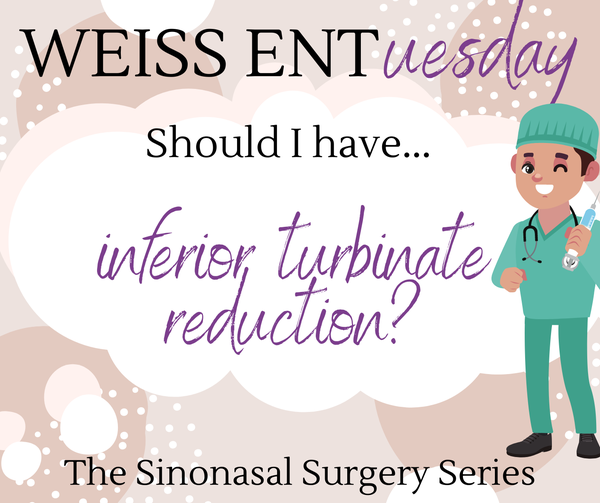 Hello again! Happy Tuesday. As our Atlanta Braves are getting ready for their playoff run, it's amazing to think about what a season they've had and how many hurdles they've overcome—losing their best player, having injuries to their pitchers, being under .500 for...
Hello everyone,Welcome back to Weiss ENTuesday! Today we lead off with our first topic in The Sinonasal Surgery Series! (Speaking of leading, let's cheer on our Atlanta Braves as they head into the last week of the season and aim to claim first place in the NL...
Weiss ENT is proud to feature its Specialty Centers. These Centers allow us to provide the full range of Otolaryngology care for our patients.
Allergy & Sinus Center
The Allergy & Sinus Center features the evaluation of chronic nasal obstruction, facial pressure and sinus infections featuring the medical and surgical treatment of chronic sinusitis including, when appropriate, in-office balloon sinuplasty.
Snoring & Sleep Apnea Center
Does your partner snore preventing you from sleeping well? Do you possibly suffer from obstructive apnea causing you to be lethargic in the morning and fatigued during the day? Weiss ENT is excited to announce the North Atlanta Snoring and Sleep Apnea Center featuring Home Sleep Tests and minimally invasive in-office procedures to treat snoring and obstructive sleep apnea.
Audiology & Hearing Aid Center
The Audiology and Hearing Aid Center is directed by audiologist Dr. Jiovanne Hughart. Locally and nationally renowned, Dr. Hughart is available to perform diagnostic hearing evaluation as well as counsel people on the latest in hearing aid technology.
Dr. Lawrence Weiss, ENT
The ENT Doctor in Marietta and Woodstock GA to Call First
Dr. Lawrence Weiss specializes in caring for children as well as adults. He has extensive experience in pediatric otolaryngology having trained under several prominent pediatric otolaryngologists.